05/05/2023
El projecte europeu ICEBERG afronta el darrer any d'activitat amb tots els casos pràctics en marxa
---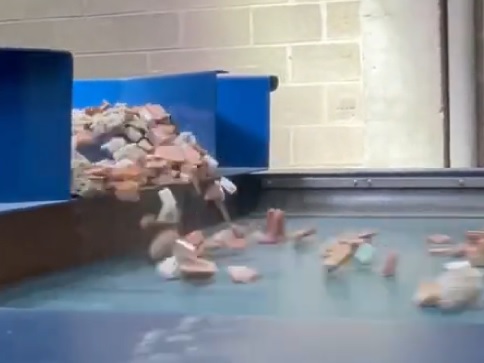 Bilbao, 5 de maig de 2023. El Projecte ICEBERG liderat per TECNALIA Research & Innovation i en què participen 35 organitzacions públiques i privades de deu països europeus, afronta el seu darrer any de treball amb avenços importants en el reciclatge dels materials de construcció, noves publicacions científiques i patents en marxa.
Holanda va acollir els dies 17, 18 i 19 d'abril l'assemblea general d'entitats membres que va servir per presentar els avenços aconseguits en aquests tres anys i repassar la feina feta en els sis casos d'estudi i en les diferents àrees d'activitat.
Com a líder del paquet de treball WP2, centrat en el desenvolupament de noves tecnologies de reciclatge, LENZ INSTRUMENTS ha completat el desenvolupament duna línia de classificació a escala planta pilot per a la separació de residus de construcció i demolició en diferents fluxos, és a dir, formigó , ceràmics i impureses (guix, fusta, paper, etc). El sistema desenvolupat permet processar fins a 10 tones per hora de material, i aconsegueix una precisió de classificació superior al 95%, la qual cosa permet una separació efectiva de les fraccions pètries mixtes com a pas previ a la fabricació de productes reciclats.
La trobada també va servir per mostrar a la nova scientific officer de la UE per al seguiment del projecte, Laura Petrov, evidències dels avenços aconseguits. En aquest sentit, en el transcurs de l'assemblea general es va visitar un dels casos d'estudi coordinat per GBN Groep i que s'està desenvolupant fonamentalment als Països Baixos, a les instal·lacions de reciclatge de GBN a Hoorn, al voltant de la circularitat del formigó . Noves tecnologies desenvolupades al si del Projecte ICEBERG han permès posar en marxa una experiència pilot que ha aconseguit separar els àrids fins de la pasta de ciment del formigó. D'aquesta manera els àrids es poden tornar a utilitzar en nous morters, formigons, asfalts o aplicacions no lligades, i la part cementícia retorna a cimentera per a la fabricació de clínquer, material clau en l'elaboració del ciment.
El projecte europeu ICEBERG –acrònim d'Innovative Circular Economy Based solutions demonstrating the Efficient recovery of valuable material Resources from the Generation of representative End of Life building materials– està finançat per la Unió Europea dins del Programa Marc de Recerca i Innovació Horitzó 2020 ( contracte 869336), i proposa abordar la circularitat dels materials més usats en edificació, des de la recuperació i el reciclatge dels residus de construcció i demolició (RCDs) fins al desenvolupament de productes més sostenibles.
L'objectiu és dissenyar, desenvolupar i validar sistemes i tecnologies de reutilització innovadores, que permetin produir materials recuperats amb alt valor –baix d'impureses (menys d'un 8%)– i fiables. La validació a escala industrial es farà mitjançant sis casos d'estudi a diferents localitzacions d'Europa, cobrint així la circularitat del formigó, la ceràmica, la fusta, el guix, les escumes aïllants i els materials superaïllants. Amb això es pretén, a més, millorar la confiança i l'acceptabilitat dels materials reciclats procedents de residus del sector de la construcció.