15/06/2020
LENZ INSTRUMENTS BEGINS ITS TECHNICAL ACTIVITIES WITHIN THE FRAMEWORK OF THE IN4CIS PROJECT
---
Within the framework of the European Research project In4CIS, Lenz Instruments has started its design tasks for the optical inspection system for third generation photovoltaic devices based on CIGS technology.
The objective in this design phase is the integration and automation of the methodologies developed by the Institute of Renewable Energies of Catalonia (IREC) into an inspection bench optimized to work in real production conditions. The system under development will subsequently be validated at the ZSW (Zentrum für Sonnenenergie- und Wasserstoff-Forschung Baden-Württemberg) manufacturing pilot plant.
From a technical point of view, one of the technological challenges to be addressed in this first phase of the Project is the development of the sensor head that integrates the light focusing and collection modules, as well as its coupling with the XY positioning system that will allow analysis of different areas of the photovoltaic modules to assess their homogeneity.
Based on the modelling studies carried out by IREC, it is also intended to implement prediction models that allow estimating the electrical properties of the final devices based on the optical response (Raman spectra and photoluminescence) observed in the active layer of the device, before its manufacture.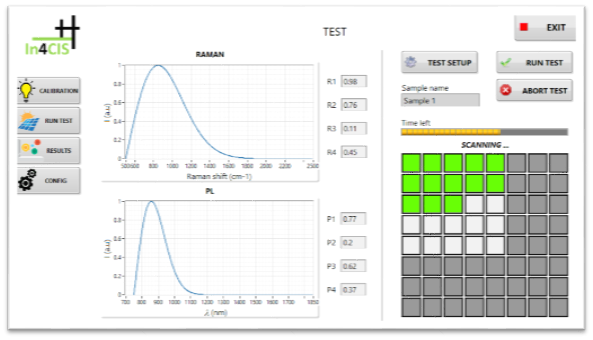 This project has received funding from the ERA-NET Solar Cofund 2, and has been cofinanced by CDTI and the European Research Framework programme Horizon 2020. The information contained in this document reflects the opinion of the authors. Neither CDTI nor the European Commission shall be responsible for any use of the information provided in this communication.